It is very important to perform an annual clean and check on your furnace once a year in order to ensure optimal efficiency and your family's safety. Over the life of a furnace the internal components can be exposed to some extreme conditions. Just like your car, maintenance should be performed on your furnace in order to prevent an inconvenient break down. During the process of heating the home your furnace burns fuel, this process can sometimes create Carbon Monoxide, an extremely hazardous, odorless, invisible gas that can cause serious health problems or even death. If your furnace is left unmaintained conditions can develop that can allow this poisonous gas to enter your home.When American Comfort Central performs your annual tune up we check these key points: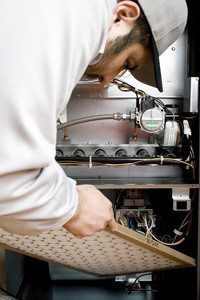 Cycle the furnace
Limited blower cleaning
Clean or change filter (customer supplied or purchased from Comfort Central)
Verify limit operations
Measure and record delta T
Clean flame sensor
Cycle condensate pump (90% or better EF)
Measure and record amp draw to blower
Rate/set furnace input
Measure and record amp draw inducer
Inspect flue pipe
Measure and verify ignition protocols
Clean burners
Tighten electrical connections
Clean and adjust pilot assembly
Clean exterior
Measure and adjust gas pressure
Brush and inspect heat exchanger
Conduct bubble test for gas leaks
Vacuum burner compartment
American Comfort Central actively pursues industry best practice, continued education and commitment to exemplary customer service. With this in mind, we offer a 100% Satisfaction Guarantee. If you are dissatisfied for any reason within the first year, contact us and we will show our appreciation for the opportunity and make it right.
Contact American Comfort Central today to schedule a service or annual performance tune up.